Offer
Before you read through the price list of our services, think calmly and ask yourself two important questions:
1. How you estimate your or loved person health and well being?
2. Who do you trust and entrust repairing your or your loved person condition in which they are found or found?
Most people respond to the first question – that good health and well-being is priceless, but we are able to spend so much money on it, as we are able to afford. On the second question, the majority of people responding – that they trust specialists who can help them get out of the condition in which they find themselves. As you can see – if they are meet these two criteria, the majority of patients are willing to entrust such specialists theirs or theirs loved ones health.
PsychoMedic.pl meet these criteria?
PsychoMedic.pl mission is to help people who need our help in the field of psychology, psychiatry and sexology. We work with the best, proven and recognized experts from Poland. Our specialists have, inter alia, huge scientific achievements, large clinical experience, they know a lot of effective treatments and therapies and have a determination to help their patients. They enjoy high reputation in the professional community and are endowed trust of patients. You can always rely on them.
In order to meet expectations of our patients, we do everything to the fees proposed for the services provided were not exorbitant and gave the opportunity to meet with the best specialists in psychiatry, sexology and psychology work in PsychoMedic.pl.
The list of benefits offered by NZOZ PsychoMedic.pl Clinic of Psychological and Psychiatric:
| | | |
| --- | --- | --- |
| Service | Price | Time (min.) |
| Consultation with a psychiatrist, neurologist | 160 PLN | – |
| Consultation with a psychiatrist (professor), endocrinologist | 300 PLN | – |
| Consultation, counselling with a psychologist | 160 PLN |  50 |
| Psychotherapy | 160 PLN |  50 |
| Couple therapy | 260 PLN |  90 |
Copy of medical records:
– one side of the extract or copy of the medical records 7 PLN
– one side of the copies of medical records 0,7 PLN
We accept credit cards: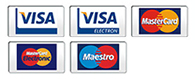 We accept insurance: